Professional young group
For participants who is studying in professional ballet school or academy from 3 to 5 years. The ballet classes based on Vaganova method. In this group the participants do different turns on the centre, small and middle jumps. Also pointed classis on the centre.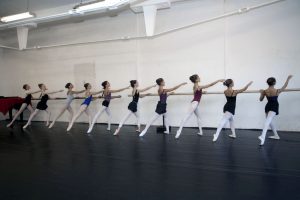 Fees
1 week: 390 €
2 weeks: 680 € 
Registration and payment condition
Dear candidates, within 15 days following your registration to our course, you must pay an advance to confirm your participation. The amount of the advance is 20% of the total registration fee. If you choose our selected hotel, the amount of the advance is 20% + 100 EUR of reservation fee. You can cancel your reservation 1 month before the scheduled date of your arrival to the hotel; otherwise, the booking fee will not be refunded.
Bank account number: 1177-3078-0028-7546
Bank name: OTP NyRt.
IBAN: HU28 1177 3078 0028 7546 0000 0000
SWIFT (BIC) OTPVHUHB
Name: Kirejko Dmitrij
Adress : 1142 Budapest, Horvát Boldizsár utca 2
Notice: ballet summer course

Shedule

Every day 4 lesson ( 4 h 40 min)
1h 30 min ballet class
1h 10 min pointe work/repertoire
1h 10 min boys jump technique/repertoire
1h character dance/modern
1h stretching/ pilates

Schedule 2019

Group A
1 week (29th July-3th August)
8:30-10:00 ballet class Tsvetkova Nina Vladimirovna
10:10-11:20 pointe class and repertoire Balaban Cristina
11:20-12:20 boys jumps and repertoire Muruev Denis
12:30-13:30 character dance Generalova Anna/12:30-13:30 modern Pétery Melinda
13:40-14:40 stretching Vdovicheva Tatjana/13:40-14:40 Pilates Golovina Yulia
2 week (5th August-10th August)
8:30-10:00 ballet class Zhytnikova Ludmila
10:10-11:20 pointe class and repertoire Vdovicheva Tatjana
11:20-12:20 boys jumps and repertoire Novikov Mikhail
12:30-13:30 character dance Generalova Anna/12:30-13:30 modern Pétery Melinda
13:40-14:40 stretching Mizinova Ludmila/13:40-14:40 Pilates Golovina Yulia

Group B

1 week (29th July-3th August)
14:40-16:10 ballet class Zhytnikova Ludmila
16:20-17:30 pointe class and repertoire Generalova Anna
16:50-17:45 boys jumps and repertoire Muruev Denis
17:50-18:50 modern Zsófia Széki /17:50-18:50 character dance Generalova Anna
19:00-20:00Pilates Golovina Yulia/19:00-20:00 stretching Mizinova Ludmila
2 week (5th August-10th August)
14:40-16:10 ballet class Tsvetkova Nina Vladimirovna
16:20-17:20 pointe class and repertoire Balaban Cristina
16:50-17:45 boys jumps and repertoire Muruev Denis
17:50-18:50 modern Zsófia Széki /17:50-18:50 character dance Generalova Anna
19:00-20:00 pilates Golovina Yulia/ 19:00-20:00 stretching Omarova Adema